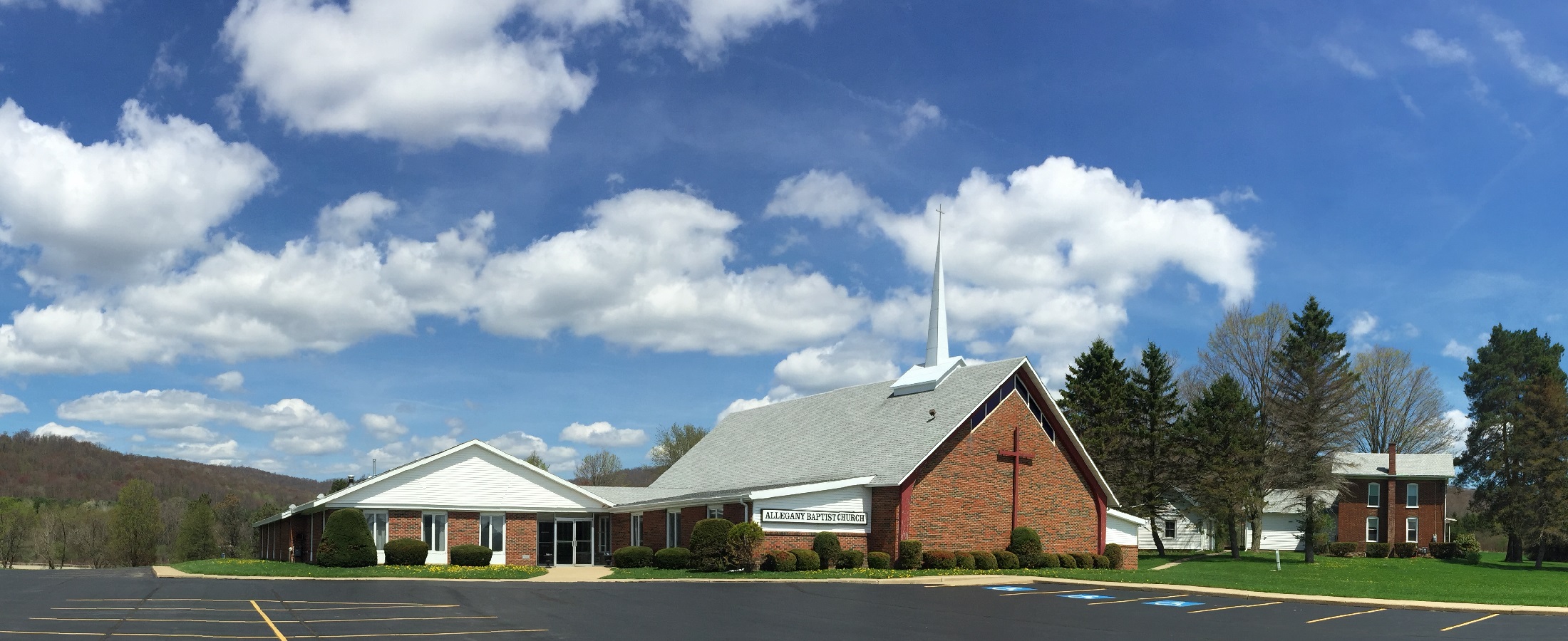 We at Allegany Baptist Church recently celebrated our 50th anniversary, as we were founded in 1964. Things are certainly different today than they were fifty years ago, but one thing remains the same, our passion for serving our Lord and Savior, Jesus Christ.
We, at Allegany Baptist Church, are committed to:
Proclaiming and obeying the Bible, God's Word
Honoring Jesus Christ
Helping others become followers of Jesus Christ
Loving and caring for those in our church and in our community
If you decide to join us for a service, we trust that you'll be able to see that we're very concerned with what God has to say to us and that we have a desire to live for Him. In essence, we're committed to loving one another as God first loved us. Our hope is that you meet people that love one another but more importantly be able to encounter a God that loved us so much that He sent His son, Jesus Christ, to die for our sins.
Our services are straightforward; we read and teach from the Bible, which is God's word to us. In response to His Word, we sing praises and pray to Him as well.
We would love it if you could join us for any one of our services:
Sunday School: 9:30am
Our Sunday school time provides you with a more intimate group Bible study, as we break our church into five groups, according to age. We have an Adult Class, a Young Adult Class, a class for children grades 3rd through 6th grade, a class for children in Kindergarten through 2nd grade, a class for toddlers and a nursery for babies. Sunday School usually ends around 10:30 when we have a fifteen minute break before the morning service starts.
Sunday Morning: 10:45am
Our Sunday morning service is filled with a variety of different ways to serve the Lord. We have regular readings from the Bible and the sermon is also based on God's Word. It is also during the morning service that we are asked to worship God through our tides and offerings.
We sing songs throughout the service and often get to hear music from our choir or from various members of our church. Children will stay in the service until the singing is over, when they are welcomed to come back to our Junior Church area. They sing songs, have a Bible lesson, and do a craft or activity that reinforces the lesson. The morning service usually runs until 12:00pm.
Sunday Evening: 6:00pm
Our Sunday evening service is very similar to our morning service. We worship God through singing songs to Him and listening to His voice through the Bible. This service allows us to dig a little deeper into God's word so that we may truly understand Him better. This service usually runs until 7:00pm.
Wednesday Evening: 7:00pm
Our Wednesday evening service is our service dedicated to prayer. We spend the first half of the service hearing a devotional given by our Pastor that can be applied to our prayer life. We then spend the remainder of the service hearing the prayer requests of our fellow members and praying together in small groups. Matthew 18:20 says, "For where two or three gather together in My name, I am there in their midst." Our church truly believes in the power of prayer and that we can benefit from praying with one another.